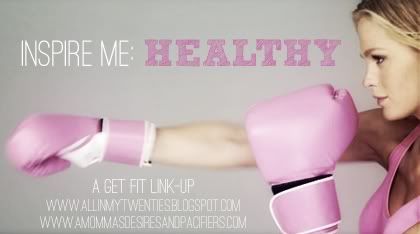 Another week, another Inspire Me post, Honey Boo Boo's. This week, I wasn't as strict as I'd like to be. So you see, with Mexico being 2 months away, I told myself I was going to have rules: 2 CLEAN meals a day, 2 CLEAN snacks a day and dinner being healthy (clean not a necessity). 1 time a week, not 1 day, I can devour anything I want for 1 meal. I don't mean I can order the entire dollar menu at Micky D's (like I'd ever go there anyways, yuck!), but if I have pizza? I can eat 3-4 pieces, but no more. Just so I could feel all wild and crazy and throw inhibitions to the wind. A girls gotta get a little wild every now and then, am I right? Also, I'd being giving it my all at the gym 4-5 days a week. I wanted to workout so hard, that I'd have to wash my hair from all that stanky sweat.
Wellllllll some of that happened. Since I last updated y'all, my workouts looked like this:
Thursday: Murdered my legs and did 30 minutes of HIIT @ gym
Friday: OFF
Saturday: Ran/walked the Color Run (distance: 3.1 miles)
Sunday: OFF
Monday: Leg day & 30 minutes of HIIT @ the gym
Tuesday: Upper body lifting & 20 minutes of HITT @ gym
Wednesday: OFF
Thursday: OFF
Sundays are a given that I give myself an off day, but I see 4 off days in there - no bueno. Nicks schedule has changed so now I'll be changing my workouts to Saturday, Sundays (before church), Monday & hopefully my mamacita can take Troy so I can make it to the gym 1 other day. With Nicks new schedule, I'd have to be at the gym at like 3:30 AM to even get a decent workout in - I.dont.think.so! I was crazy waking up at 3:45, but to BE at the gym at 3:30 is not happening. I really don't like working out at home, but I think to give myself something extra, Im going to add in 30 Day Shred or something like that just to drive home the point to my body, that Im not playin.
Eating has been not so great this week. Sunday we had the 1st preseason game of the NFL season, so we got a pizza. I was good and only had 1.5 pieces, but then on Tuesday we had leftovers of the pizza. Im embarrassed to say what happened, but lets just say it wasn't okay considering I had already had my splurge day of the week. But I'd be lying if I said it was so delicious once it touched my lips. Over..and over... ha!
So, this week Im setting myself a couple goals:
1. Sticking to the eating plan I had set out for myself in the first place
2. For workouts: 30 day shred today and the gym: Saturday, Sunday, Monday.
I also need to up my water intake. Goal for water will be 100 ounces a day.
Hope you ladies kept it in check this past week - lets all raise a glass of our favorite adult bevie water for our goals next week - CHEERS!