Happy Friday/Weekend's Eve ladies!
I hope y'all had a great 4th of July. Pretty low key for our household - we putzzed around our house and I took a cat nap until about 1ish and then we headed down the road to my parents house for some pool fun. Absolutely no pictures - I know, major fail. To suffice, how about a little bit of this guy on his quad
The picture below is hilarious - he was still clueless that you put your feet on the feet rests, so he was lifting them up over the handle bars. Flexible little booger isn't he?
So let's get to Friday Fav's shall we?!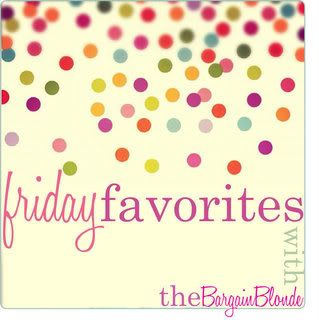 First off, lets start with Stella & Dot - ya know, that amazing company The Bargain Blonde, Lindsay reps....its my FAVORITE accessory line EVER. This week I took the plunge and am now a legit Stylist for THE Stella & Dot and couldn't be happier with my decision *a blog dedicated to this choice coming soon!* I cannot pick a favorite piece, and was first introduced to it on the The Bachelor whenever that freakishly perfect Emily Maynard wore it when she was dating Brad.
She just can't stay away from this stuff. Giving credit, where credit is due - Lindsay was an added factor in me deciding to take the jump with this great company. So, Im taking a page out of her book, and if any of you ladies are looking for funky fun jewelry or jewelry that will never go out of style, check out your favorite stylist site, MOI! Im telling you, that wish list is going to grow fast!
Another Favorite this week - THIS preview for the Real Housewives of OC reunion.
I cannot tell y'all how many times I've hit rewind to watch Andy's face in slo mo again and again. I have a feeling, I am going to have to empty my bladder completely before I see the whole thing when it airs, because I cannot stop laughing. Seriously, am I the only one? Please tell me this is cracking you up as much as me. His true fufu comes out with the reaction.
My dad is another favorite this week! So my dad who NEVER shops unless it's dude stuff or it's Christmas time, decided he wasn't going to use this little sweet thang and gifted his daughter with it. I just don't understand how people can NOT use a Target gift card? I tried (ONCE!) to decline, but he insisted, and girlfraaaands, you aint gotta tell me more than once when it comes to spending free cash at Tar-jay. This may or may not be spent today.
My favorite song that gets my donkey booty shaking?
Happy Friday ladies!